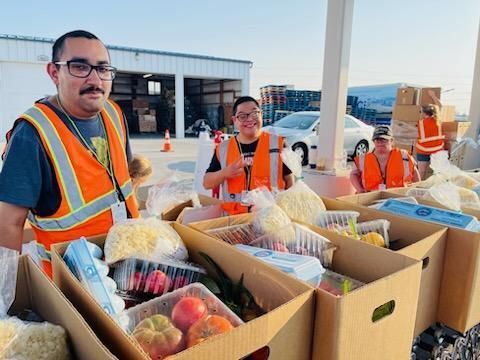 On August 24, SOAR participants volunteered their time and energy to help Blue Mountain Action Council with food distribution.
by Tash Foxe
The SOAR program is created for the people who are in it. It is from their voices that each and every social and recreational event is designed around. A few months back I had participants asking about volunteer opportunities. After having a year with most of our participants I have had the privilege of getting to know them. Their likes, dislikes, and personalities. Taking all these things into consideration, the best opportunity would be at the BMAC Food Distribution. 
This process started all the way back in June. Connections and partnerships within our community are pivotal to all of our programs here at the WWVDN. Yvonne is the Food Bank Outreach Manager at BMAC and is amazing to work with. She took the time to listen to our needs and responded in a way that allowed for us to have choices in what participants were able to do. We were given the choices to do both distributions and box builds as well as sorting. We were able to fill boxes while doing distribution.
Volunteering at BMAC allowed our participants to be out in the community helping others, making a difference and an impact in the lives of others around them. They worked HARD and quick with smiles on their faces as they filled boxes with fruits, vegetables, and breads. One of our participants did traffic control, helping to usher in vehicles and motioning them to stop at designated areas.
I am so proud of their hard work, and it is hard work - there had to be over 250 boxes that were filled and loaded into vehicles. I love that they wanted to help others and give back to the community. But what I loved the most was that once they left, their presence was missed. There was no mention or asking about disabilities, what was noticed was each individual's ABILITY and personality.
SOAR looks forward to working with BMAC again along with other outreach agencies in our valley. We here at the WWVDN hope that after reading this, that you would: a) consider hiring an individual that has disabilities - see past the label and discover the individual; b) sign up to volunteer with the WWVDN; c) reach out to other community outreaches, like BMAC and give a helping hand.
Our community is better when we all work together.
If you are interested in volunteering with WWVDN click here.
2023 WWVDN Annual Meeting