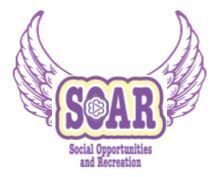 This is the last SOAR event in September and is for individuals age 13 and older:
Saturday, Sept 30 - FESTA (REGISTRATION CLOSES SUNDAY, Sept 24 at 6:00 pm
Time: 10:30 am - 12:30 pm
Cost: Money if you want to purchase food or snacks at the event.
*September will finish off with a fun experience offered by the Italian Heritage Association - FESTA! Participants will get to stomp grapes, go on an Italian Scavenger Hunt (with a treasure map), and I am sure there will be some yummy food if participants want to bring money to get something tasty to eat!
~~~~~~~~~~
Please register for SOAR in September Events by clicking the Registration button above and then selecting which dates you plan to attend.
Reminder: Registration for all SOAR events closes at 6:00 pm the Sunday before the event.