SOAR in November: Movie - Trolls Band Together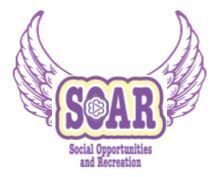 Sunday, Nov 26 - Movie Night (Trolls Band Together)
Time: To Be Determined
Cost: Movie Admission and extra money for any snacks you wish to purchase.
*Participants will need to bring money for ticket and any snacks they would like! We will either be going to a matinee or early evening showtime.
~~~~~~~~~~
Please register for SOAR in November Events by clicking the Registration button above.
Reminder: Registration for all SOAR events closes at 6:00 pm the Sunday before the event.