SOAR Combined (Adults & Teens): Movie, Craft, & Caramel Apple Bar Night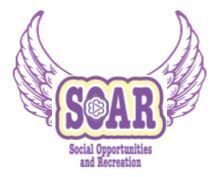 Nov 8, 5:00-7:00 pm Movie, Craft & Caramel Apple Bar Night
~ Details: We will meet at the Center for Children & Families and spend the evening making a Thanksgiving craft, watching the movie Free Birds, and enjoying a caramel apple bar! Bring a blanket and pillow if you like as we will be sitting on the gym floor.
Other SOAR November Events:
Nov 14, 5:00-7:00 pm Friendsgiving (deadline to register is November 9)
~ Details: Join us for our first annual Friendsgiving at Trinity Baptist Church (595 Abbott Rd, Walla Walla). We are going to come together as a group and cook dinner together and play a game or two!
Nov 24, 8:30-10:00 am Turkey Trot (deadline to register with WWVDN is November 15)
~ NOTE: Please register on the WWVDN page AND the Salvation Army page (Price: $15/person - paid to Salvation Army - if you register before Nov 23 on their website: https://give-nw.salvationarmy.org/event/the-salvation-army-walla-walla-turkey-trot-2022/e427608 )
~ Details: Get your gobble til you wobble on! Put a little Thanksgiving festivity into your outfit and then come join us for a 1-mile walk Thanksgiving morning! Mill Creek Recreation Trail