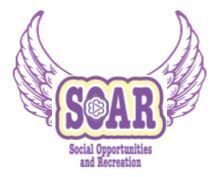 Please register for SOAR January Events by clicking the green button above and selecting which dates you plan to attend.
Remaining January SOAR events are as follows:
January 16th - Comic-Con #2
4:30 pm - 6:30 pm
Walla Walla Center for Children & Families, 1150 W. Chestnut St., Walla Walla
*New Comic books! New prizes! We will watch a movie, have some hot dogs, and a whole lot of fun! Come dressed as your favorite character! This could be a full costume, a onesie, or a favorite T-shirt.
The movie will be shown in the gym so BRING a blanket, pillows, inflatable chair/mattress, a mat, a bean bag, etc. etc.
~~~~~~~~~~
January 23rd - Bowling
5:00 pm - 7:00 pm
Bowlaway Lanes, 411 Ash St., Walla Walla
$ Bring money for game and snacks
*Let's meet up at Bowlaway Lanes for a fun night bowling!