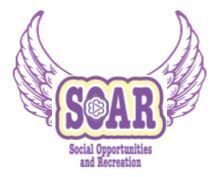 Please register for SOAR February Events by clicking the green button above and then selecting which dates you plan to attend.
February SOAR events are as follows:
Tuesday, February 7th - Speed Friending & Spaghetti
4:00 pm - 6:00 pm
Trinity Baptist, 595 Abbott Rd, Walla Walla
*During this event we will go through what makes a friend & personal boundaries; participants will then engage in speed friending where they will ask each other questions about their interests and then share a spaghetti dinner.
~~~~~~~~
Monday, February 13th - Sweet Treats & Valentines
4:30 pm - 6:30 pm
WWVDN Office located at the Walla Walla Center for Children & Families
*Participants will be making their own valentines, chocolate dipped pretzels, and using cake pop & mini donut makers to create their own sweet treats to share with family and friends.
~~~~~~~~~~
Tuesday, February 21st - MARDI GRAS MASQUERADE
5:00 pm - 7:00 pm
Trinity Baptist, 595 Abbott Rd, Walla Walla
*Participants come dressed up to their comfort level (usually in colors of purple, green, and gold/yellow), there will be sparkling cider, snacks, a limbo game, music & dancing! We will also have masks, beads, & crowns for participants.
~~~~~~~~~~
Monday, February 27th - Movie Night
Time & Movie to be determined
Cinemark Theater, 1325 W Poplar St, Walla Walla