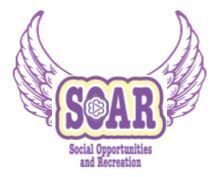 Please register for SOAR February Events by clicking the green button above and then selecting which dates you plan to attend.
Remaining February SOAR events are as follows:
Tuesday, February 21st - MARDI GRAS MASQUERADE
5:00 pm - 7:00 pm
Trinity Baptist, 595 Abbott Rd, Walla Walla
*Participants come dressed up to their comfort level (usually in colors of purple, green, and gold/yellow), there will be sparkling cider, snacks, a limbo game, music & dancing! We will also have masks, beads, & crowns for participants.
~~~~~~~~~~
Monday, February 27th - Movie Night
Time & Movie to be determined
Cinemark Theater, 1325 W Poplar St, Walla Walla