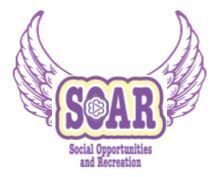 Remaining March SOAR events are for individuals age 13 and older and are as follows:
Thursday, March 16th - Karaoke
(Register BEFORE Sunday, March 12 at 6:00 pm)
5:00 pm - 7:00 pm
*Let's get together to sing our hearts out and have dinner together! Bring money for your dinner, they have burgers, sandwiches, shakes, fries and more. Family friendly establishment. If you don't like to sing, you can still come and hangout, fun for all our participants!
~~~~~~~~~~
Monday, March 20th - Outdoor Pokemon Go Tournament followed by Pinecone Creamery
5:00 pm - 7:00 pm
*We will be walking around town "catching" Pokemon as teams. Dress warm and bring some money to enjoy some Pinecone Creamery ice cream afterwards.
~~~~~~~~~~
Monday, March 27th - "Ninja Warrior" Training Night
4:00 pm - 6:00 pm
A fun night filled with obstacle courses and ninja endurance training! Participants will navigate (with assistance if needed) some fun obstacles and get a small treat bag.
~~~~~~~~~~
Please register for SOAR March Events by clicking the green button above and then selecting which dates you plan to attend.
Reminder: Registration for all SOAR events closes at 6:00 pm the Sunday before the event.