SOAR in June (Walla Walla Summer Fest )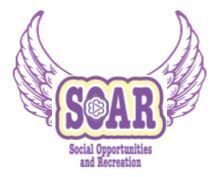 SOAR June events are for individuals age 13 and older and are as follows:
Sunday, June 4 - Walla Walla Summer Fest
(Register BEFORE Sunday, May 28 at 6:00 pm)
Time: 5:00 to 7:00 pm
Cost: See below
*We will meet up at the WW Summer Fest to enjoy dinner, some live music, and check out the vendors. You have two options here:
1) Bring a picnic dinner
2) Bring money and purchase food from one of the many Food Trucks that will be there. (I suggest minimum of $15 for food)
*BE SURE TO BRING A CAMPING/FOLDING CHAIR or BLANKET to sit on and a WATER BOTTLE.
*There will be non-food vendors as well if you would like (personal choice) to bring money to purchase something.
~~~~~~~~~~
Tuesday, June 13 - Walla Walla Sweets Baseball Game
Time: 6:00 pm until game is over
Cost: $13 (includes admission, a hot dog, and 1 soda)
*Registration has been up for a while now and will be closing May 31st!! Tickets are $13 per person and includes seating in the grandstands and a hot dog with 1 soda. We will stay until the game is over. Please let me know if you need to leave early. If you are paying by check or with cash, please make sure you turn it in to Tash BEFORE May 31st!
To register for the WW Sweets Baseball Game, please go to:
https://www.wwvdn.org/news-events/upcoming-events.html/event/2023/06/13/soar-walla-walla-sweets-baseball-game/427571
~~~~~~~~~~
Please register for SOAR June 4 event by clicking the green button above.
Reminder: Registration for all SOAR events closes at 6:00 pm the Sunday before the event.